Get Peace-of mind & on top of everything
Holistic Life Dashboard
• Eliminate chaos • Be across everything • Achieve 'life harmony'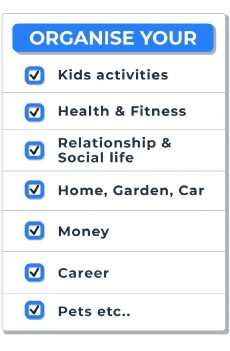 Busy with so much to-do?
Trying to manage numerous tasks can cause frustration & worry.
Not all areas of life
receives attention.
Minimal time for bigger goals
as life gets in the way.
Trying to remember
everything is not possible.
Get a Holistic Life Dashboard
so you can focus on all areas of your life
Life organised with everything in the one place.
Allows you to focus on what is important now.
Automated to-do lists prepared by Guides.
Save time, money & get things done.
Progress everything
Automated & recorded for you
Include everything you need
The what, how, who, where and when is automatically included.